Why Upland Gear LLC Was Created
My Story
My vision was to create quality products for upland hunting sportsmen that addressed their specific needs. I created Upland Gear because, as a bird hunter, I was not able to find the right gear to meet my particular needs for quality, utility and comfort in the field. My designs have been refined over years of hunting and I am proud to now share them with all my upland hunting friends. I have been selling my Quail And Dove Caddy since 2006 and my customers love them. I am confident you will be pleased with Upland Gear products too. You have my word on it!
Wade Carter
Quail And Dove Caddy Features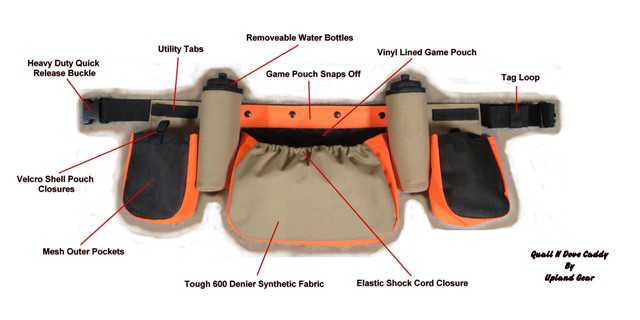 Quail And Dove Caddy Is Built Of Quality Materials With The Upland Hunter In Mind
• Made of tough 600 denier synthetic fabric.
• Cross-stitched at load points for extra strength.
• Inside seams finished to prevent unraveling.
• Vinyl lined game pouch to resist staining.
• Elastic shock cord closure on game pouch.
• Game pouch snaps off for use as sport shooting shell bag.
• Payload capacity 3.5 lbs.
• Heavy duty, quick release buckle.
• Belt adjusts for waist size 34" to 44".
• 2 30oz clear water bottles with insulated holders.
• Velcro closure shell pouches.
• Velcro tabs for securing accessories.
• Outer mesh pockets for your bird call or other items.
• Offered in Desert Tan w/Blaze Trim, Desert Tan
All Blaze Orange & Camo colors.